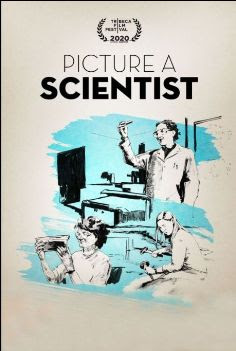 Picture a Scientist is now available to watch on the Film Platform collection on Academic Video Online! Now available through Belk Library and Information Commons library catalog, you can view Picture a Scientist here. (Appalachian State University log in required). After you view the film, register for a live, candid conversation with world-renowned scientists on advancing diversity and inclusion in STEM.
The film chronicles the groundswell of researchers who are writing a new chapter for women scientists. In the film, biologist Nancy Hopkins, chemist Raychelle Burks, and geologist Jane Willenbring lead viewers on a journey deep into their own experiences in the sciences, ranging from harassment to years of subtle slights. Along the way, from cramped laboratories to spectacular field stations, we encounter scientific luminaries - including social scientists, neuroscientists, and psychologists - who provide new perspectives on how to make science itself more diverse, equitable, and open to all.
You are invited to a live virtual panel event on March 24th around the film Picture a Scientist! Register here: https://www.choice360.org/webinars/when-you-picture-a-scientist-who-do-you-see/
The film will be an integral part of the live conversation on March 24 at 3:00 pm EST.
Nobel Prize-winning Dr. Jennifer Doudna (featured in the film Human Nature), along with Dr. Raychelle Burks and Dr. Jane Willenbring (who are both featured in Picture A Scientist), and Dr. Eva Pietri (a social psychologist studying bias in STEM) will welcome your questions at our live online panel conversation on advancing diversity and inclusion in STEM. Our discussion will focus on:
the experience of each panelist as leaders in their field
the journey and obstacles each overcame to get here
what they identify as positive solutions that will allow for continued equity and inclusion within the scientific community and beyond.
The panel will be moderated by Editor in Chief for Scientific American, Laura Helmuth. Only the ninth Editor in Chief in the magazine's 175-year history, Laura's leadership and commitment to science journalism and storytelling makes her the ideal person to drive this candid conversation.

If you have any questions about accessing the movie, please email grs@appstate.edu.
Tags: